I'd call it "Ellie and Joe + Fo' "
Yep, that's right.... we have four dogs now... unexpectedly. There's a "new" rescue dog in the house. A few days ago, I came across an ad on Craigslist listing a rather... familiar... dog available: my first Border Collie, Marley! Marley is the one dog that I've ever really regretted placing. He's a really neat guy.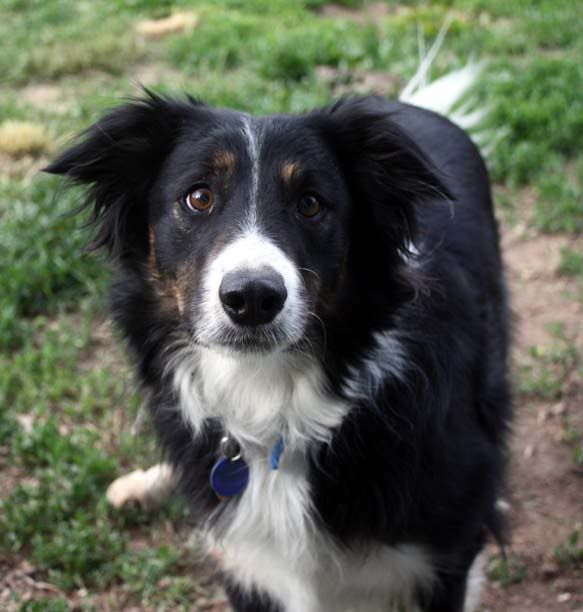 Aside from a little bit of anger that his old owner didn't even try and contact me when she realized she couldn't keep him, everything went pretty smoothly with getting him back. She dropped him off at my house on Monday night and he's been doing great ever since. All the dogs seem to accept him well except for Moss who is jealous. It's a bit of "but I'M the baby!" syndrome. But, it's great to have Marley back. I missed him.
Sooo.... Marley is available to a good, active home. He needs to lose about 5-8 lbs and get on some better food, but otherwise he's the picture of health. Nice, clean teeth, has basic obedience (sit, down, shake, walks on a leash), is crate trained and housebroken, and gets along with people and other dogs. If you are interested, or know of anyone looking for a great pet, please don't hesitate to email me at ElementBCs@gmail.com.
Anyways....
The trial this weekend is looming over my head in a big way. I'm hoping that I can keep my head on straight and that Cedar and I don't nerve each other out :D
As long as we can work together and get the sheep out of the pen at the start of the run, we'll be fine. Everything else should be pretty easy, barring bad sheep or bad weather or the big one, NERVES. I think we are ready, though.
Worked Cedar at Dianne's yesterday... she was really good. Her driving was excellent and we practiced some fetching just because we hadn't done it in awhile, LOL. I just need to figure out how to set her up for success in the holding pen. Of course, Dianne can go in and get her to do it right away.
Figures.