I am so unobservant.... or maybe just busy. BUT...
Yesterday marked the one-year anniversary of me and Cedar's first lesson with Dianne. No, it wasn't our first herding lesson, but I mark that date as the beginning of the 'real' journey that is the heart of this blog. I guess some reflection is in order...
So here I sit on the couch, the close memory of some delicious pecan baklava still resonating on my tongue, thinking about herding. It seems that all I do (when I'm not thinking about grad school or teaching)is think about Border Collies and herding. This has morphed from something that I wanted to "try just for fun" to a full blown passion. I knew pretty much right away that this was something I wanted to do. Even though our first lesson was, erm, a bit "exciting"... I was "hooked."
My blog post after our first lesson:
http://cedarbc.blogspot.com/2008/08/herding.html
...and a picture ;)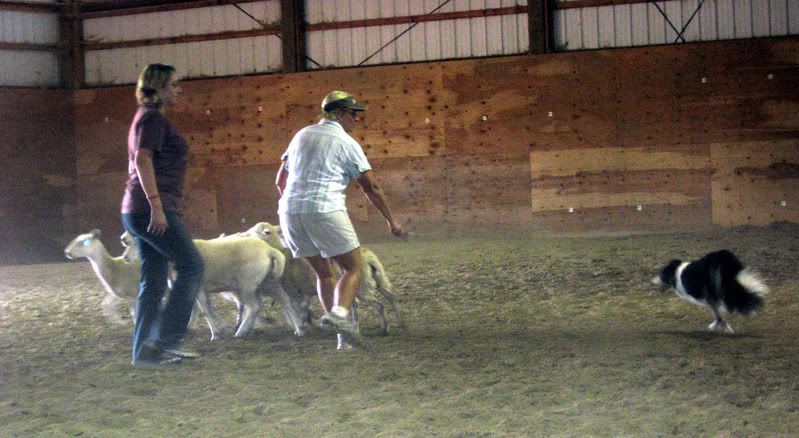 I started out a hardcore conformation and obedience person with little understanding of the amount of time/talent/dedication/whatever that it takes to really succeed at this sport. No, Cedar and I are still not very good at all. Yes, I am DAMNED proud of our ASCA Started title. It represents almost a year of hard work and struggle. We have come such a long way, even since the ASCA trial, that my optimism outweighs the negative aspects of this.
Cedar has taught me SO much about training, handling, humility, etc etc... and although it has not been easy most of the time, I feel very fortunate to have had this experience. I am a better handler because of her... and frankly, no matter how good of a sheepdog she turns out to be, she will always be my baby girl :)
I have had a BLAST going to trials and watched some truly amazing dogs (and handlers!) work. It takes my breath away to watch a good Open team complete a course. The amount of teamwork, training, preparation, and improvision just boggles my mind. There is no other sport like this in the world.
I know that this is just the beginning...
Moss is my future.
He's so fabulous! I don't know what else to say about him. Moss has such a great personality, and so far has shown some real promise on sheep. I am so thankful that Dianne let me have such an amazing puppy. I can't wait to see how he turns out!
Before I run out of sappy things to say, I really do want to thank everyone who has helped me this year. I have made some wonderful friends and had some great times. I can't wait to spend more time with all of you!
Well, I'd better stop writing before I truly go off the deep end of sap! I start grad school next week... which means I will be teaching also. I just finished my syllabus and lesson plans for the freshman English course I'll be teaching at BSU. It's a HELL of a lot of work and I am really overwhelmed right now.
Time for another cocktail...
Later!