Well I haven't written in awhile, and a lot has happened with Miss Cedar :)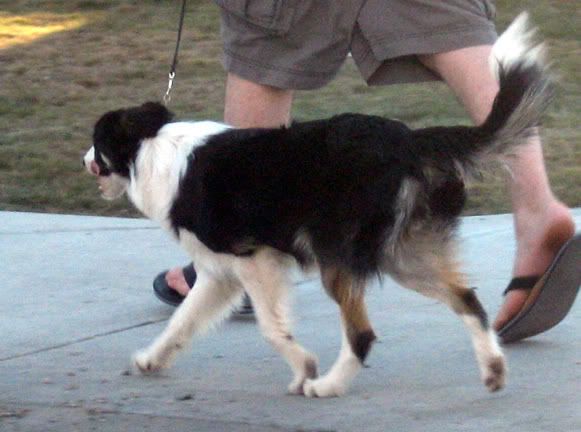 A
few weekends ago we took a seminar with Mary Hunter called "Focus on Focus." As anyone who has met Cedar knows, she is VERY distracted. I was hoping that this seminar would help us to become a better team, and help Cedar to focus better on me and the job at hand.
I'm happy to say that the seminar was a success! We learned a lot of things that have helped bring us closer as a team, and also things that help to deal with her obsessive and nervous behaviors. When we first started working at the seminar, she was so nervous and wound up that she was shaking. After about 10 minutes on the mat, however, she was doing great. I am so excited to continue to train her in agility, obedience, tracking, and rally. She really is an awesome dog and I am so thankful to have her in my life.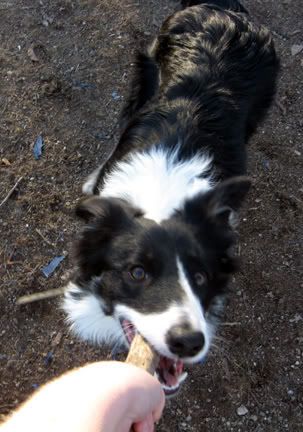 We start our next set of agility classes this saturday the 23rd- I'm really stoked! I am intrigued to see how she does w/ other obstacles and am excited to work on things like contacts and obstacle commitment. I know I definitely need to work on MY handling skills :).
Some of the things Cedar and I need/would like to improve on:
Agility
Front and rear crosses

- I get so tangled up in my own feet! I would like to be able to do both without having to think through every step. So far, I have to count my steps and do everything deliberately.


Weave poles

- Now that Cedar is over 6 months I'd like to start training her on weave entries and general (easy) weave poles. I need to get my "stick in ground" poles from my mom's house

Recall

- Cedar still isn't too good about coming when called, though she IS getting better. Again, this is a focus issue I think, and I am hoping that the more I work with her, the better it will get.

Jumping

- Yeah, I know she's still too young for much serious jumping but I plan on continuing with my jump style-shaping training. I hope to get a youtube video together soon to show my method. Coming from horses, it makes a lot of sense, and so far it seems to be working pretty well with getting Cedar to jump in the proper bascule.
Obedience/Rally


Heeling

- I would like to show Cedar in Rally this summer, so I need to get my butt in gear and start training attention heeling. She is done teething so it's okay now. She is not the best at walking on a leash, I'll admit.... so we need a lot of work on this.


Front/Finish

- I would like to have her reliably coming to front, finishing right and left, and doing a schutzhund "about turn" by May.

Tracking


I'd like Cedar to be able to complete a 50-pace track by April, and a 100-pace track by June, as well as start to fade the food rewards by mid-May. Not sure when I'll introduce articles...
Here's a few pix of her that I think are pretty cute.....
7 months
: